Our School Uniform
Here's a quick guide to our school uniform. Children should wear:
Red Sweatshirts, Jumpers or Cardigans
White Shirts, Blouses or Polo Shirts
Grey/Black Skirts, Pinafores, Trousers & Shorts
Black Shoes (no heels or trainers)
Long Hair Should Be Tied Back With a Bobble
Plain White, Black or Grey Socks
Plain White, Grey, Black or Red Tights
Red & White Checked Summer Dresses
One pair of ear studs that should not be worn on PE days.
(Non-studs and facial piercings will not be permitted in school)
In Year six, as the role models in school, our young adults are expected to wear their red tie to school every day.
While we have no specific policy on hair colour, extrovert styles including unnatural colours are not permitted.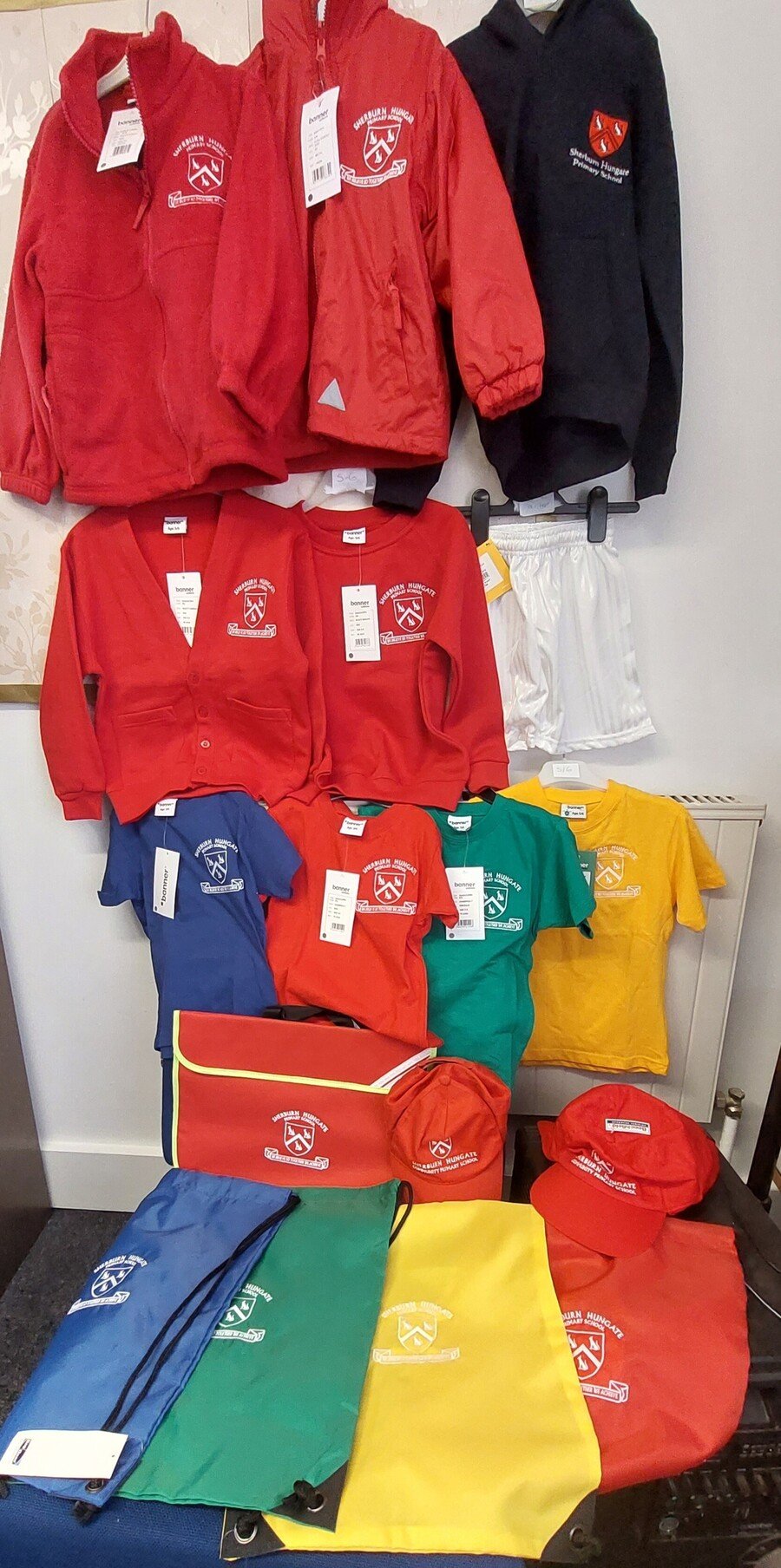 Ordering Uniform & PE Kit
Our school uniform can be purchased through our supplier (APC) in Tadcaster. We have a dedicated Sherburn Hungate Primary School uniform website:
APC School Uniform Site for Sherburn Hungate Primary School.
Uniform can be ordered and delivered to your home (£7.50 but free once orders reach £50.00) with orders taking around 28 days to arrive. You can also collect directly from APC (Unit 6a Guardian Park, Station Road Industrial Estate, Tadcaster, LS24 9SG). There is also an option to have your items delivered to school for free, where you can collect from the school office.
In school, we stock PE T-Shirts (by house colour), book bags, baseball & legionnaire's caps as well as PE bags.
White PE Shorts are also available at a cost of £6.00, direct from school (via ParentPay).
To order individual items through school, please place orders through ParentPay and allow 48 hours before collecting.
PE Kit
Children are designated to 'houses' on entry by the admin team. This dictates the colour of the PE shirt (available from the school office). If you prefer to purchase elsewhere, the PE shirt should be a plain cotton shirt of your child's house colour. Children should wear white shorts and have a tracksuit for autumn/winter outdoor sport.
Pre-Loved Clothing
There is a selection of Pre-Loved items in school to support all families. Please enquire with Mrs Carter in the school office on 01977 682434.
Labelling Items
Please ensure that all personal items (clothing, bags, etc.) are clearly labelled.